A quite gentle walk on flat ground that takes about an hour return.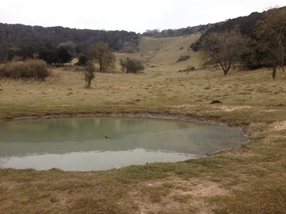 This walk lies northwest of Chichester, just north of the B2178.
There is a National Trust car park (GR SU824088) but it fills up quickly. The path goes from the carpark towards the hills of the South Downs, through open fields to the entrance to Kingley Vale. The easiest path leads straight ahead through the yew forest to a clearing where you can gaze up the steep slope to the top of Kingley Vale.
If you're feeling VERY fit you can walk straight up the slope to access wonderful views over Chichester, the coastline between Bognor and Portsmouth, as well as the Isle of Wight. But for those who don't fancy themselves as Sir Edmund Hillary, the top of Kingley Vale hill is accessible by passing through the gate into Kingley Vale and immediately taking the path on the left. This leads gently uphill and eventually to the Devil's Jumps at the top – with the aforesaid views.
In the spring the woods on both sides of the road from the B2178 to West Stoke car park are FULL of bluebells. Definitely worth the detour (as M. Michelin would say!).
Go to Favourite Walks list